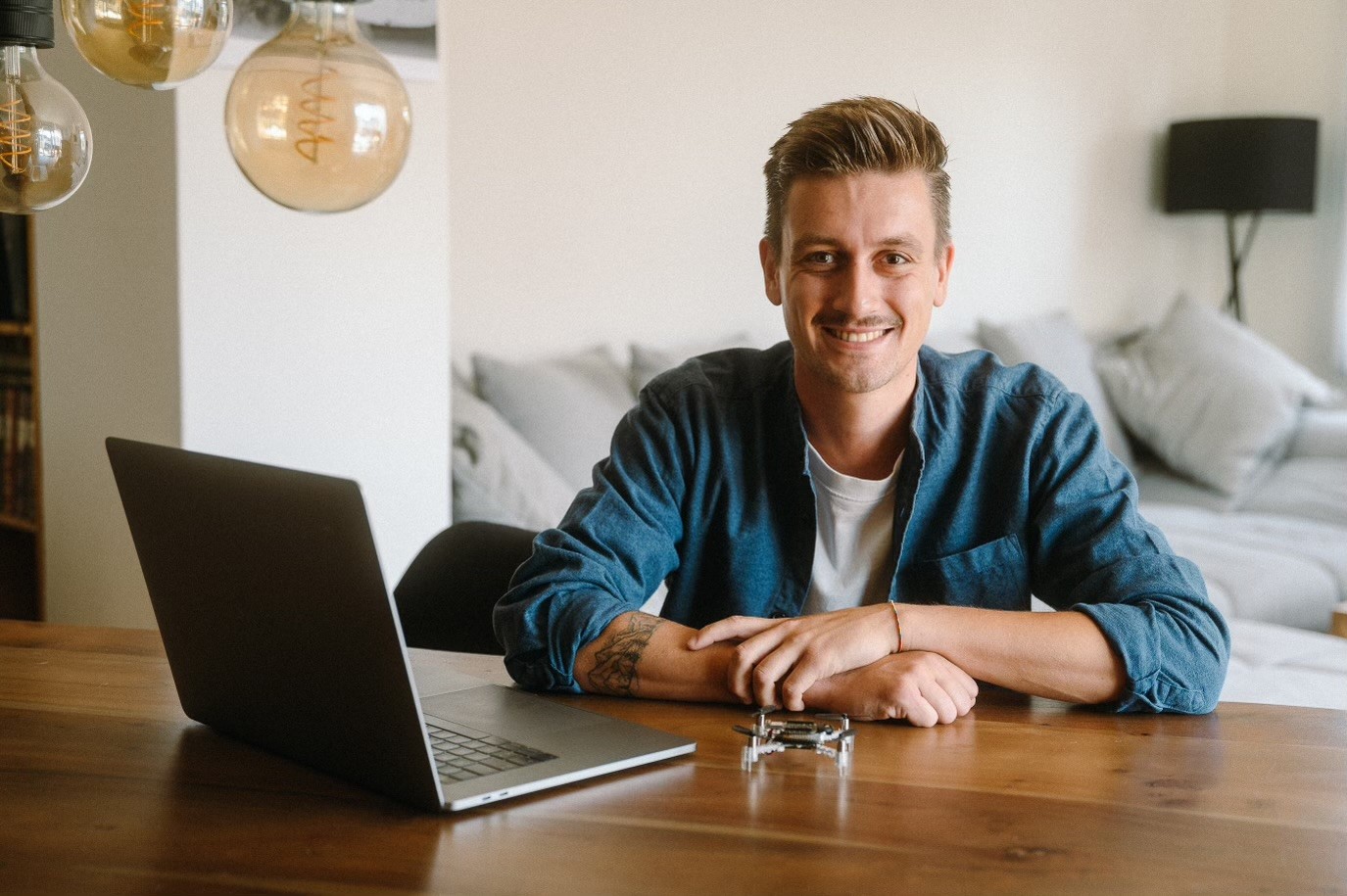 Florian Huber completed an apprenticeship in electrical engineering and spent several years working as electronic engineer and calibration officer in the electronics industry. Today, he is a student in the Bachelor's degree programme in Information and Communications Engineering, and additionally he works as teaching assistant and tutor. The Carinthian spoke to us about his passion for studying and why perseverance is the most important thing when pursuing a degree programme.
The most important stations along your career path:
After finishing compulsory schooling, I completed an apprenticeship in electrical engineering which also included the school-leaving certificate (Matura). I was able to gain a lot of practical experience during my apprenticeship and in the following four years, when I worked as an electronic engineer and calibration officer in the electronics industry. In early 2020, I decided to broaden my theoretical knowledge by studying information and communications engineering at the University of Klagenfurt, and I have also been allowed to make a small contribution to research and teaching as a teaching assistant and tutor since 2021.
What prompted you to choose the University of Klagenfurt?
I come from Klagenfurt and my home is only a 15-minute bike ride from the campus, so of course the geographical location played a role. I checked out what kinds of courses were on offer. Since I have always had a great interest in the fields of electronics and robotics, but also enjoy software development and computer science, the degree programme in information and communications engineering was the perfect fit for me. This programme is the ideal combination of electrical engineering and computer science. Then, using various different information channels at the university, I informed myself further and made the decision to start this degree programme.
Can you still remember your very first days of student life?
I am the first person in my family to take up a degree, so it was all very new to me at first. It took me some time at the beginning to settle into the daily routine of studying; but thanks to my fellow students, who always helped me, I quickly found my way.
Is there anything that still connects you to the University of Klagenfurt today?
I have established many contacts at the university, with students as well as with researchers. I have made new friends here. I can already look back on a great time at university and am confident that it will continue. Apart from the studies, which are often very demanding, or perhaps because of this, I have built up very good relationships with my fellow students and we also spend plenty of free time together outside of the daily university routine.
What are your current work duties? Can you describe the day-to-day routine in your job?
Last semester I worked on a project involving virtual reality and drones, which was presented during the Long Night of Research. The aim was to give visitors a glimpse of the technologies and methods that are used and developed at the university. I designed a concept for the demos by myself and subsequently developed them and put them into practice. At the Long Night of Research, I was able to demonstrate my work to the visitors and share ideas with them. As a tutor in the subject "Design of Digital Circuits", I help students with assignments, with understanding the content and can support them in preparing for exams. Both activities offer varied working days where no two days are the same.
What do you like most about your job?
In my job as a teaching assistant, I have already learned a lot of new things and have the opportunity to work closely with university assistants, professors and researchers and to learn from them. I also enjoy the contact and exchange with other students in my work as a tutor and the opportunity to support them with their questions and problems.
Do you feel that your studies prepared you for your current job?
During my studies I have already learned many fundamental principles, which I can draw on. I can continue to build on these "basics" and deepen my own understanding.
Can you think of a nice anecdote from your student days?
In the first semester, there were many restrictions in place at the university due to the pandemic. As a result, my fellow students and I had little contact with each other or with the teaching staff. Once, there were just three of us in the university's largest lecture hall watching a lecture online, which must have been a funny sight from the outside.
What is your favourite place at the University of Klagenfurt or in Klagenfurt?
The open-air space behind lecture hall A. It's the best place to spend spare time on campus in the summer, completing assignments for courses or watching online lectures. Away from the university, of course, it's swimming in Lake Wörthersee.
What advice would you give to students today?
The most important thing when studying is perseverance. Some courses require a lot of effort and studying. A motto that I always use to get through the exam phase is this: "The longer and more demanding the exam phase is, the greater the joy and satisfaction when you have completed everything successfully."
Would you study the same thing again today?
Yes, even now that I am in the final third of my Bachelor's degree, I am still excited about the content and courses to come and look forward to learning new things. Owing to the similarity in subject matter, I would probably choose between information and communications engineering and the new "Robotics and Artificial Intelligence" degree programme, which also sounds very exciting.
What do you miss about your student days?
I am still able to enjoy my remaining time at university, so I don't miss anything yet.
A few words with Florian Huber
One of my happy moments at the University of Klagenfurt was … knowing at the end of each semester that you have passed all the courses.
My favourite course was … communications engineering
Uni is not possible without … coffee
When I think of the University of Klagenfurt, I immediately think of … a campus teeming with students and the proximity to the lake.
My degree programme in 4 words: instructive, challenging, diverse, exciting
My (life) motto … Those who stop wanting to become better, stop being good.